EUMOFA is pleased to announce the publication of a new Price Structure Analysis entitled Meagre in the EU.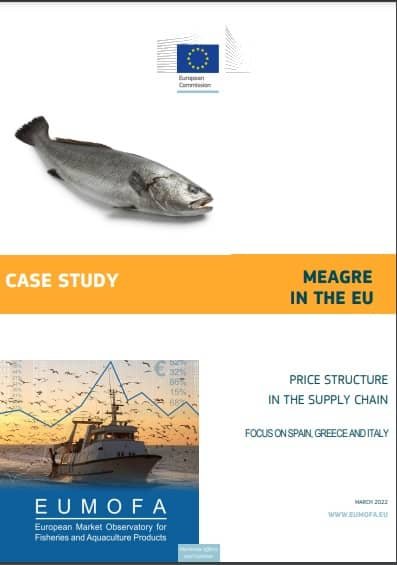 The study analyses meagre production and market trends at the EU level, focusing on price structure along the supply chain in Greece, Italy and Spain.
The world's main producer of meagre (Argyrosomus regius) is Egypt, which accounted for 47% of global production in 2019 (96% from aquaculture), followed by the EU-27 (82% from aquaculture), Angola (100% wild-caught), Mauritania (100% wild-caught) and Turkey (98% from aquaculture).
According to FAO data, in 2019 the main producers of meagre in the EU were Spain and Greece (producing 5.303 and 2.415 tonnes respectively), which accounts for 76% of EU production. France, Croatia and Portugal were next in line, representing at least 5% of EU production each. In the EU, most meagre is farmed, amounting to 8.401 tonnes in 2019 compared to 1.861 tonnes of wild-caught meagre. Both aquaculture and fishery production increased between 2010 and 2019, by 298% and 92% respectively.
Spain is both a producer, importer and exporter, and domestic consumption of meagre is significant. The volume of meagre production in Spain was 5.303 tonnes in 2019 (FAO), of which 86% originated from aquaculture and 14% from fisheries. Imported product amounted to approximately 3.300 tonnes in 2020 and came from Turkey, Egypt and Greece. Exports are estimated to be at 1.500 tonnes and mostly destined for Portugal and Italy. The average price of meagre at the ex-farm level is 5.00 EUR/kg (excluding transport) and the average price of whole meagre at retail is 9.50 EUR/kg, including VAT.
Greece is mainly export-oriented, but national consumption of meagre is growing. In 2019, production in Greece amounted to about 2.400 tonnes in 2019, 100% from aquaculture (FAO, Eurostat). Imports were very limited, while about 70% of production was exported to Italy, France, and Germany. In 2019, the average price of whole fresh meagre at the ex-farm level ranged between 4.80 EUR/kg to 6.50 EUR/kg.
Italy is an importing market, with very limited national production of meagre. In Italy in 2019, aquaculture production amounted to 75 tonnes for nearly EUR 0.5 million, a very limited supply in terms of value and volume. About 95% of domestically consumed meagre is imported from Croatia, Spain and Greece, while exports are estimated as insignificant. In 2019, the ex-farm price for meagre in Italy was 7.00 EUR/kg.
Ex-farm prices from all surveyed countries are relatively homogeneous – from 5.00 to 7.00 EUR/kg. The retail price for filleted meagre is 19.00 EUR/kg in Greece, compared to about 30 EUR/kg in Italy, while the retail price in Spain is comparable to the purchase price of meagre in a restaurant in Italy.
Read the full report in English, France, Spanish, Italian and Greek.