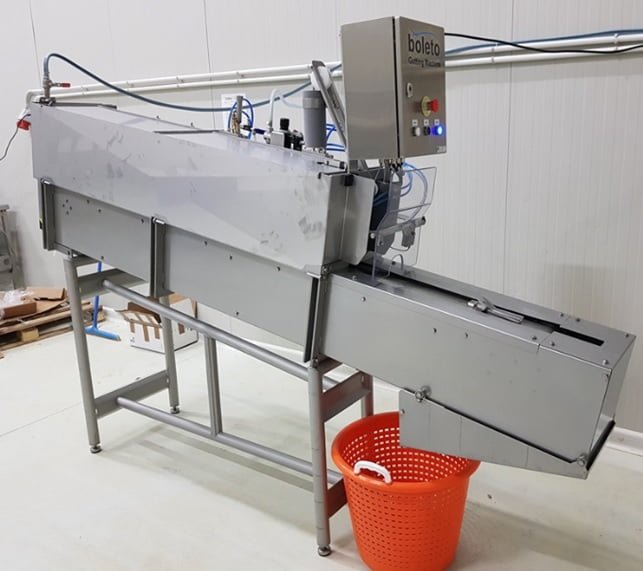 Have you ever wondered how to efficiently and precisely perform fish evisceration? In fish processing, evisceration plays a crucial role in maximizing fish utilization and obtaining quality products, all while ensuring that your investment in cultivation or capture is not in vain.
Boleto, a leading company in advanced fish processing solutions, is pleased to announce its prominent participation in the upcoming Expo Pesca y AcuiPeru 2023. This internationally renowned event gathers key players from the fishing and aquaculture industry and will take place from September 6 to 8.
The event will provide a unique opportunity for Boleto to showcase its latest innovations in fish evisceration technology, a vital process in the production chain that guarantees the quality and freshness of the final product. With decades of experience in the industry, Boleto has become a reference for advanced and efficient fish processing solutions.
Fish Evisceration: More than a Simple Task
Fish evisceration goes beyond removing gills and viscera. It's a process that requires skill to ensure the fish maintains its quality and freshness. This procedure involves extracting the fish's internal organs and preparing it for consumption or further processing.
In pursuit of maximum efficiency, the fishing and aquaculture industries have turned to fish evisceration machines. These machines employ advanced technology to automate the process, reducing the time and resources required for evisceration.
Evisceration machines not only increase production speed but also enhance the uniformity and hygiene of the final product.
In this regard, Boleto's fish evisceration technology has revolutionized the way fish evisceration is carried out. Their cutting-edge machines combine precision with automation, improving efficiency and hygiene in eviscerating species such as rainbow trout, tilapia, sea bass, dorado, mackerel, herring, and others.
The company takes pride in its constant innovation focus, enabling Boleto to offer tailored solutions for the specific needs of its clients.
Fish Evisceration Technology
Boleto designs and constructs machines for eviscerating rainbow trout, sea bass, tilapia, dorado, with a capacity of up to 50 fish per minute, adjustable according to customer procedures and requirements.
Furthermore, this machine can process fish weighing from 150 to 1200 grams, is easy to operate, and maintenance can be performed by the operator at a very low cost.
"The machine is built to order and constructed based on customer information about the type and size of the fish to be eviscerated. This way, optimal reliability is achieved, and less than 0.5% of fish are damaged during the evisceration process," emphasized Dr. Aref Souki, Director of Boleto for LATAM and North America.
Moreover, Boleto provides tanks for continuously distributing fish, vertical fish conveyor belts, and inspection tables tailored to customer needs.
Boleto: An Internationally Present Company
Boleto represents leadership in processing technology, specifically evisceration, offering a substantial advantage over its competitors, both in terms of cost and components. Its design, durability, low maintenance, and lack of complicated electronic systems are crucial components.
Furthermore, the company provides a personalized approach to its customers, involving them in project engineering design. The benefits are numerous, including assembly, start-up, training, an accessory box, and consumable spare parts for the next 3 to 4 years, including sea freight.
Due to these and other advantages, Boleto's products have entered Latin American markets in recent years, in countries such as Chile, Costa Rica, Venezuela, and Colombia, as well as North America and Australia, with functioning evisceration machines.
Boleto has gained extensive knowledge through years of experience and collaboration with clients worldwide. The company has clients in Spain, Turkey, Iran, Italy, Germany, Serbia, Croatia, Poland, Australia, Canada, among others.
Boleto's Participation in Expo Pesca y AcuiPeru 2023
Boleto's participation in Expo Pesca y AcuiPeru 2023 showcases its commitment to excellence and collaboration in the industry. Boleto's team of specialists will be present at the event (Stand 109) to engage with visitors, share their experience and expertise, and present the latest trends in fish processing technology, particularly in the field of evisceration.
"We are excited to showcase our products at the Expo Pesca y AcuiPeru 2023 fair, including our robust Trout Machine. This machine stands out for its durability, ease of operation and maintenance, and customization according to customer needs, ensuring maximum reliability and minimal fish damage (0.5%). Its stainless-steel construction allows for easy and lasting cleaning. Additionally, it features CE Conformité Européene (European Conformity) approval with integrated safety measures, certifying compliance with European and global standards," said Dr. Aref.
Expo Pesca y AcuiPeru 2023 is an unparalleled platform for Boleto to strengthen relationships with current and potential clients. It also offers professionals from the fishing and aquaculture industry the opportunity to experience firsthand the innovative solutions the company provides.
Those interested in learning more about Boleto's fish evisceration solutions can visit the company's website or contact Boleto's team of specialists directly:
Peder Pedersen
Chief Engineer and Company Partner.
Dr. Aref Souki
Director for LATAM and North America.
Email: Aref@boleto.dk
Mobile: +45 91 73 07 72
Work: +45 41 65 88 88
About Boleto
Boleto Maskinfabrik ApS was founded by Leif Thomsen in 1972 and has become a leading company in advanced fish processing solutions, particularly evisceration. With a history of innovation and excellence, Boleto specializes in fish evisceration technology and offers customized solutions for the global fishing industry. Based in Vamdrup, Denmark, Boleto takes pride in its commitment to quality, efficiency, and customer satisfaction.
Boleto's vision is to "provide complete solutions for the evisceration of a wide variety of fish, focusing on designing each machine to meet customer requirements."