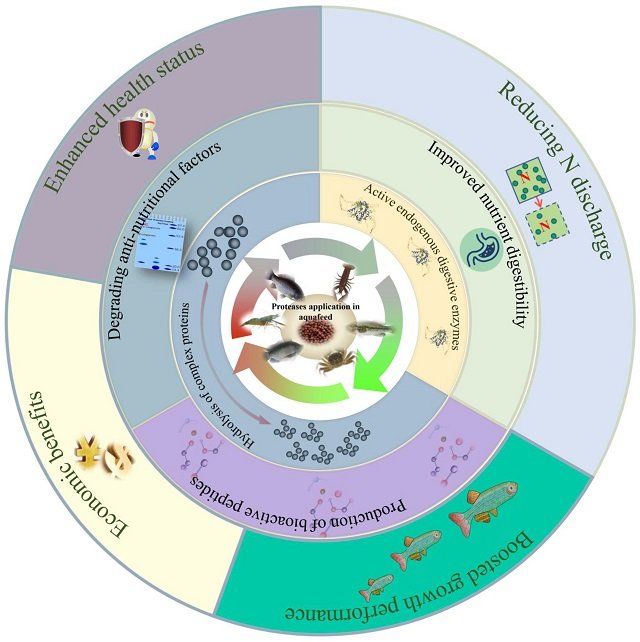 In the dynamic landscape of aquaculture, the quest for sustainable and protein-efficient diets has led to the adoption of protein-saving and fish meal reduction strategies. While addressing protein source challenges, these approaches may pose potential drawbacks for the growth, feed utilization, and disease resistance of aquatic animals.
A promising solution emerges through the application of exogenous protease, a key enzymatic player, to optimize the nutritional quality of alternative diets. Researchers from the Institute of Feed Research, China Agricultural University, University of Plymouth, and the Centre for Innovative Approach Zambia (CIAZ) have published a scientific review delving into recent advances in protease application in aquaculture. The review examines potential benefits, limitations, and paves the way for future research opportunities.
Challenges in Aquaculture Nutrition
The imperative need to reduce fish meal usage in aquafeeds has led feed manufacturers to employ two primary nutrition strategies: low fish meal diets (LFD) and protein-saving diets (PSD).
LFD involves substituting fish meal with alternative proteins such as fish and terrestrial animal by-products, plant-based meals, unicellular proteins, and insect meals.
On the other hand, protein-saving diets feature a lower protein content, supplemented with essential nutrients, including amino acids, high lipids, and high sugars.
However, these strategies have raised concerns due to observed negative impacts on the growth, feed efficiency, and disease resistance of aquatic organisms.
Advantages of Proteases
To overcome these challenges, researchers have turned to exogenous protease, recognizing its ability to enhance the quality of diets with lower protein content or fish meal alternatives.
By unlocking the bioavailability of crucial nutritional components, protease plays a crucial role in mitigating adverse effects associated with protein-restricted diets.
Proteases are enzymes responsible for breaking down complex proteins into smaller units through hydrolysis. Commercial proteases for foods, such as alcalase, papain, flavourzyme, neutrase, and trypsin, can be categorized based on their source: animal, plant, and microorganisms.
Applications of Proteases in Aquaculture
According to the study, the use of proteases can be categorized into two distinct applications: as a food additive and for fish meal alternative pre-treatment.
"The effects of food protease preparation in aquaculture can be summarized as follows: complementing the deficiency of endogenous proteases and hydrolyzing complex proteins into simpler units," note the researchers.
Supplementation with endogenous digestive enzymes benefits nutrient digestibility by farm animals, with a particular emphasis on proteins.
Growth Performance
"Previous research consistently demonstrated growth improvement benefits from protease supplementation in diets. In the case of omnivorous fish, a dose of 500 mg/kg protease supplementation in PSD diets significantly improved the growth of Nile tilapia (Oreochromis niloticus)," reported the scientists.
They also highlight a study on a carnivorous fish, European seabass (Dicentrarchus labrax), suggesting that supplementing high levels of dried distillers grains with protease inclusion increased growth performance.
Degradation of Antinutritional Factors and Hydrolysis of Complex Proteins
Another innovative application of protease involves enzymatic hydrolysis of fish meal alternatives. This process improves the nutritional utilization of alternative proteins, making them more accessible and digestible for aquatic species. The review explores how protease preparations contribute to maximizing the nutritional benefits of various protein sources.
Several studies have shown that protease pre-treatment can significantly degrade antinutritional factors. Additionally, the study highlights another function of protease, which is the enzymatic hydrolysis of protein into individual amino acids and peptides.
Apparent Digestibility Coefficient of Nutrients
An optimal amount of exogenous protease added to food shows a considerable impact on nutrient digestibility, particularly crude protein.
"Studies have partially attributed the improvement in nutrient digestibility due to protease to the improvement of intestinal structure, contributing to the thinning of the intestinal muscle mucosa," the researchers cited.
Physiological Function
Recent studies have confirmed the beneficial effects of proteases on the physiological function of aquatic animals, potentially improving growth performance.
According to the study: "In fish, reductions in aspartate aminotransferase (AST) and alanine aminotransferase (ALT) in blood have been reported in Nile tilapia, gibel carp, and black sea bass, fed with adequate levels of protease supplementation."
Disease Resistance
The study highlights that the inclusion of protease-treated protein improves fish survival rates after infections by parasites or bacteria, citing examples in European seabass, red drum, pompano, and barramundi.
The authors of the study indicate that incorporating protein hydrolysate into fish or shrimp diets can serve as a practical nutritional approach to prevent tenacibaculosis and reduce economic losses in aquaculture.
Benefits and Limitations
An unbiased assessment of the benefits and limitations of protease application is a fundamental component of this review. From improved growth performance to potential challenges, the goal is to provide a balanced perspective that informs stakeholders and researchers alike.
Future Opportunities and Conclusion
"Protease additives achieve increased digestibility of food nutrients, boost fish growth, improve health status, and enhance the aquaculture environment. Additionally, it could hydrolyze many undesirable protein sources to become high-quality protein raw materials with small molecular weight, high digestibility, low antinutritional factors, and more bioactive peptides," conclude the researchers.
The review concludes by identifying opportunities for future research in the field of protease application in aquaculture.
The study has been funded by the National Key Research and Development Program of China; The Agricultural Science and Technology Innovation Program of CAAS, China; Beijing Innovation Consortium of Agriculture Research System; and the Xinjiang Key Research and Development Program.
Contact
Min Xue
National Aquafeed Safety Assessment Center, Institute of Feed Research
Chinese Academy of Agricultural Sciences
Beijing 100081, China
Email: xuemin@caas.cn
Reference (open access)
Shiyou Chen, Sahya Maulu, Jie Wang, Xiaoze Xie, Xiaofang Liang, Hao Wang, Junjun Wang, Min Xue. 2023. The application of protease in aquaculture: Prospects for enhancing the aquafeed industry, Animal Nutrition, 2023, ISSN 2405-6545, https://doi.org/10.1016/j.aninu.2023.11.001.