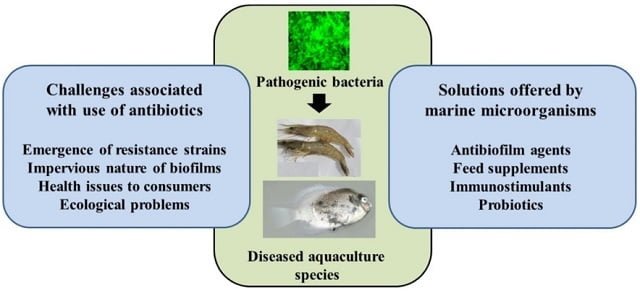 Marine ecosystems encompass microorganisms that produce bioactive compounds, including agents that could be used as alternatives to antibiotics.
Additionally, the biomass and/or biomolecules associated with these microorganisms could act as food supplements to improve the overall health of aquaculture species and enhance water quality parameters.
Scientists from the Indian Institute of Tropical Meteorology and Savitribai Phule Pune University published a scientific review summarizing the content of studies on marine microorganisms with the potential to be developed as agents to address bacterial diseases in the aquaculture segment.
In this regard, the publication includes two distinctive categories:
The role of marine bacteria, fungi, and microalgae in controlling the growth of pathogens affecting aquaculture species through the production of a variety of bioactive compounds, and
The application of bacteria, yeast, and algae to enhance the overall health of aquaculture species through their use as probiotics and immunostimulants.
Furthermore, the initial part of the study describes the use of different anti-biofilm compounds derived from marine bacteria and the role of fungi in producing effective antimicrobial metabolites against aquaculture pathogens.
Finally, in the last sections, the study authors describe the utilization of marine microorganisms as food supplements, probiotic preparations, and immunostimulants concerning aquaculture practices.
Marine Microorganisms to Combat Pathogenic Bacteria
Marine environments harbor a wide diversity of microbes, and the survival of microorganisms under these conditions often depends on their ability to produce bioactive compounds with a variety of chemical structures.
These compounds are promising candidates for therapeutic, industrial, and environmental applications due to their inherent resistance to changes in temperature, pH, salts, and contaminants in the ocean.
Although the mode of activity has not been elucidated in several cases, the microorganisms in question, or their derived compounds, have been effective in enhancing immunity, overall health, and growth conditions of aquaculture species.
Additionally, many microorganisms have been used to improve water quality parameters and thus reduce infections in aquaculture farms.
Marine Bacteria as a Source of Anti-biofilm Compounds
The study authors describe the wide range of anti-biofilm compounds derived from marine bacteria that are effective against aquaculture pathogens.
Pathogenic bacteria in aquaculture farms often adapt to biofilm growth as a survival strategy. Pathogens associated with aquaculture (Vibrio harveyi, Vibrio alginolyticus, Pseudomonas aeruginosa, and Pseudomonas gessardii) can form biofilms.
Biofilms from Vibrio, Pseudomonas, Flavobacterium, Aeromonas, and Streptococcus are major concerns for aquaculturists.
The researchers detail the bactericidal characteristics, surfactant activity, anti-adhesive nature, and quorum sensing inhibitory properties demonstrated by a series of compounds derived from marine bacteria that are important for the treatment of aquaculture pathogen biofilms.
Antimicrobial Agents Derived from Marine Fungi
During the past decades, a wide variety of secondary metabolites with industrial, pharmacological, and environmental applications have been obtained from marine fungi. However, research on their applications in aquaculture is scarce.
Fungi from the genera Aspergillus and Penicillium are widely explored for the production of active compounds effective against pathogens affecting aquaculture species.
Microalgae to Control Aquaculture Pathogens
In some instances, marine microalgae cultures have been effective in controlling the growth of aquaculture pathogens. Studies have focused on the co-cultivation of microalgae with pathogens for growth control.
The researchers cite experiences of axenic cultures of Tetraselmis chui and Chlorella minutissima, Isochrysis sp., and Nannochloropsis sp., which inhibit the growth of Vibrio bacteria.
Conclusions
"The utilization of marine microorganisms or their derived compounds is an effective strategy to combat infections, enhance immunity, overall health, and growth conditions of cultivated species," conclude the researchers.
They also highlight that proper documentation and knowledge of these organisms and their compounds are important for designing anti-infective strategies in aquaculture farms.
"Several marine bacteria exhibit anti-biofilm properties through bactericidal inhibitory activity, surfactant, anti-adhesive nature, and quorum sensing inhibitory properties. Among these species, Bacillus, Vibrio, Photobacterium, Pseudoalteromonas, Providencia, Staphylococcus, Brevibacterium, Pseudomonas, Shewanella, Halobacillus, Streptomyces, Raoultella, and Synechococcus are the main effective candidates in managing biofilm-associated infections in aquaculture farms," they report.
Contact
Faseela Hamza
Indian Institute of Tropical Meteorology, Ministry of Earth Sciences
Pune, India.
E-mail: faseela@tropmet.res.in
Smita Zinjarde
Institute of Bioinformatics and Biotechnology
Savitribai Phule Pune University
Pune 411007, India
E-mail: smita@unipune.ac.in
Reference (open access)
Faseela Hamza , Smita Zinjarde, Use of marine microorganisms in designing anti-infective strategies for sustainable aquaculture production, Journal of Applied Microbiology, 2023;, lxad128, https://doi.org/10.1093/jambio/lxad128